RH 513 1540s-60s Florentine Lady's Outfit
Visitors: 3917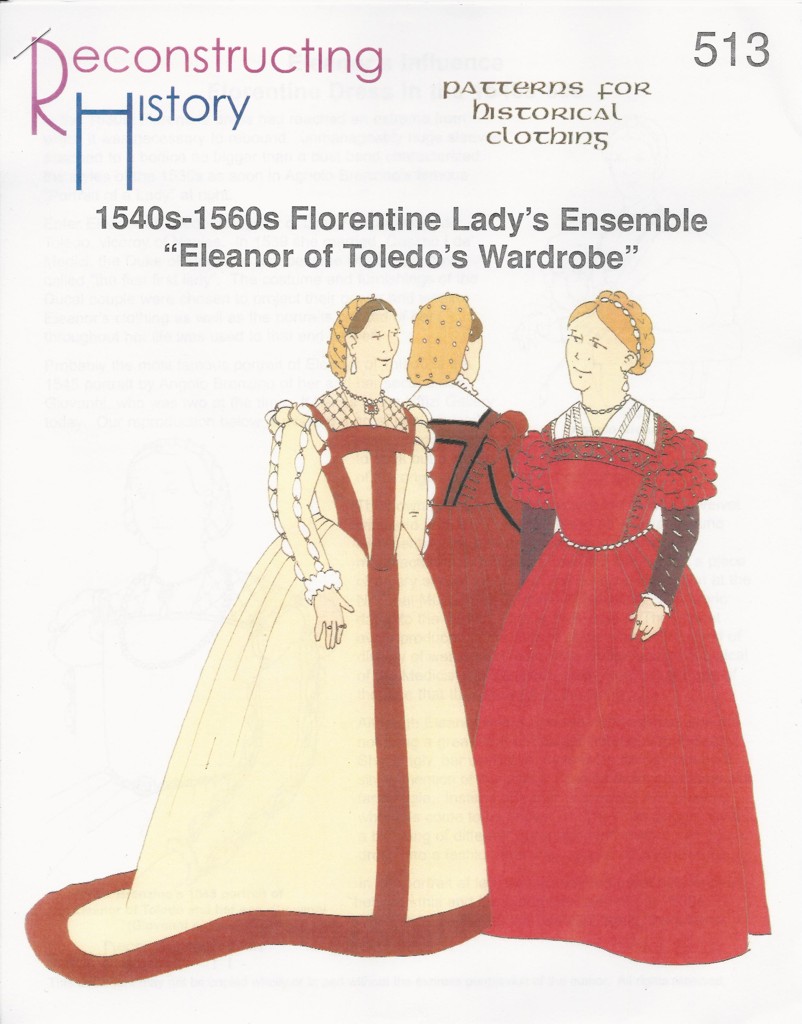 Size : EUR 23.00 incl. VAT
(EUR 19.33 excl. VAT)
Make Eleanore of Toledo's dress in your size with our pattern!
Buy our full-size paper patterns with complete instructions and historical notes for 16th century Italian Lady's Outfit as worn in Florence and the Tuscan region from the 1540s until Eleanore's death in 1562 and possibly as late as 1580. Pattern includes petticoat and overgown both with tie-on sleeves, side-back closure, A-line pleated skirts. Instructions for camicia (shift) also included. Fits busts 30½"-48" and waists 23"-41". All Sizes in one envelope. Historical notes and embellishment suggestions included.
Suggested Fabrics:
light weight wool or silk taffeta
heavy linen or canvas for interlining
light linen for lining
linen for coif, camicia and partlet
Yardage Requirements:
Gown with matching sleeves: 6 yds 45" or 4½ yds 60" wide
Gown without sleeves: 4 yds 45" or 3 yds 60" wide
Constrasting sleeves: 2 yds 45" or 1½ yds 60" wide
Lining: 2 yds 45" or 1½ yds 60" wide (bodice & sleeves only)
Interlining: ½ yd 45" or 60" wide (bodice only)
Notions:
thread
hooks & eyes or cord and closed rings (thread eyelets may also be used)
two-inch and three-inch wide strips of contrasting wool or colourful ribbon for guards, as many as desired
© Reconstructing History, 5118 Cotton Valley Shores, Christiansted, VI 00820, US Virgin Islands
Availability:
2 on stock
Shipping costs depend on the total amount of your order. You can see an overview in the table in our
terms
. The resulting shipping costs will be shown in a summary table before finishing your order.