TV 304 1875 Square Overskirt
Visitors: 1614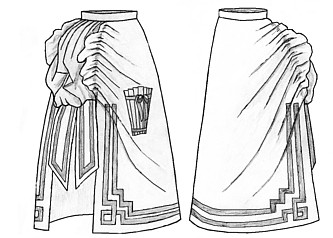 EUR 21.00 incl. VAT
Size : EUR 18.00 incl. VAT
(EUR 15.13 excl. VAT)
This Square overskirt was a very popular style in 1875 and 1876. It is designed to be worn with an underskirt and petticoat TV101. The apron is smooth in front with gathers at the side backs making "fans" over the top of the bustle. Between the fans is a poufed back section with 2 tails falling below the poufs. The closure is in the center back.
This skirt is suitable for a nice visiting skirt, or with elaborate trimming, would make a nice ball gown overskirt. Bordered fabrics would look especially nice, as the apron is cut on the cross grain. Many examples of this style have braid work or ribbon scrolled along the square edge. The back poufs were often of the contrasting fabric, but may also be the same fabric.
© Truly Victorian 18925 John F. Kennedy Dr. Riverside, CA 92508, USA
Availability:
2 on stock
Shipping costs depend on the total amount of your order. You can see an overview in the table in our
terms
. The resulting shipping costs will be shown in a summary table before finishing your order.