RH 508 16th century Italian Commonwoman's Outfit
Visitors: 3812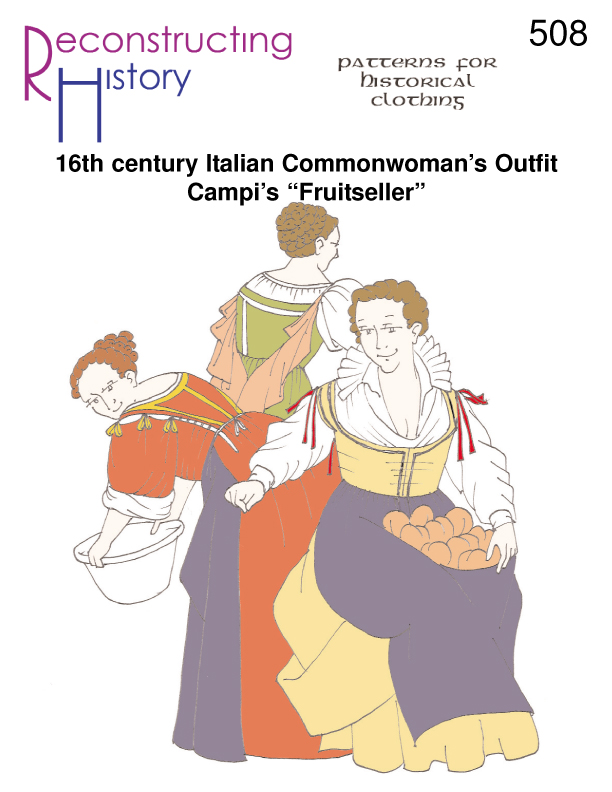 EUR 23.00 incl. VAT
Size : EUR 21.00 incl. VAT
(EUR 17.65 excl. VAT)
Buy our full-size paper patterns with complete instructions and historical notes for 16th century Italian Commonwoman's Gown as seen in the work of Vincenzo Campi. Pattern includes tie-on sleeves, center or side-back closure, and gathered or pleated skirts. Instructions for ruffled-collared camisa or scoop-necked pleated camisa also included. Fits busts 30½"-48" and waists 23"-41". All Sizes in one envelope. Historical notes and embellishment suggestions included.
Suggested Fabrics:
light weight to coat weight wool
heavy linen or canvas for interlining
light linen for lining
Yardage Requirements:
Gown with matching sleeves: 6 yds 45" or 4½ yds 60" wide
Gown without sleeves: 4 yds 45" or 3 yds 60" wide
Constrasting sleeves: 2 yds 45" or 1½ yds 60" wide
Lining: 2 yds 45" or 1½ yds 60" wide (bodice & sleeves only)
Interlining: ½ yd 45" or 60" wide (bodice only)
Notions:
thread
hooks & eyes or cord and closed rings (thread eyelets may also be used)
two-inch and three-inch wide strips of contrasting wool or colourful ribbon for guards, as many as desired
© Reconstructing History, 5118 Cotton Valley Shores, Christiansted, VI 00820, US Virgin Islands
Availability:
2 on stock
Shipping costs depend on the total amount of your order. You can see an overview in the table in our
terms
. The resulting shipping costs will be shown in a summary table before finishing your order.