RH 502 Landsknecht Wams and Hosen early 16th century
Visitors: 4230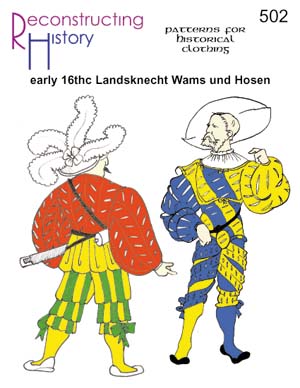 EUR 30.00 incl. VAT
Size : EUR 29.00 incl. VAT
(EUR 24.37 excl. VAT)
Full-size paper patterns with complete instructions and historical notes for Men's early 16th century Wams (doublet) and Hosen (pants) as worn by Landsknechten. Pattern includes Open Wams with Brustfleck, Closed Wams, and Hosen with straight or Italianate slanted back seams. Detailed instructions. Embellishment suggestions included. Historical notes. Fits chests 34"-54" and waists 28"-50". All Sizes in one envelope.
© Reconstructing History
Availability:
3 on stock
Shipping costs depend on the total amount of your order. You can see an overview in the table in our
terms
. The resulting shipping costs will be shown in a summary table before finishing your order.