RH 211 Feminine Doublets
Visitors: 3688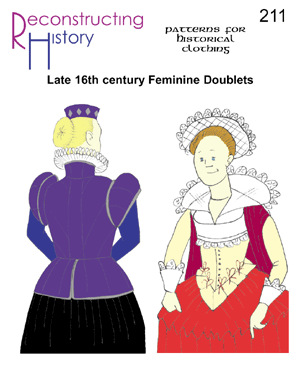 EUR 23.00 incl. VAT
Size : EUR 21.00 incl. VAT
(EUR 17.65 excl. VAT)
A beautiful women's doublet dating from 1585 with hidden laced closure, buttoned front, high collar, skirts, and padded epaulettes. Lacing holes inside the armscyes are for the attachment of decorative sleeves. Front of the doublet is boned so wearing a separate paire of bodies may not be neccesary.
Scoop-necked, sleeved, pointed-waist version also included in the same pattern.
© Reconstructing History, 5118 Cotton Valley Shores, Christiansted, VI 00820, US Virgin Islands
Availability:
1 on stock
Shipping costs depend on the total amount of your order. You can see an overview in the table in our
terms
. The resulting shipping costs will be shown in a summary table before finishing your order.